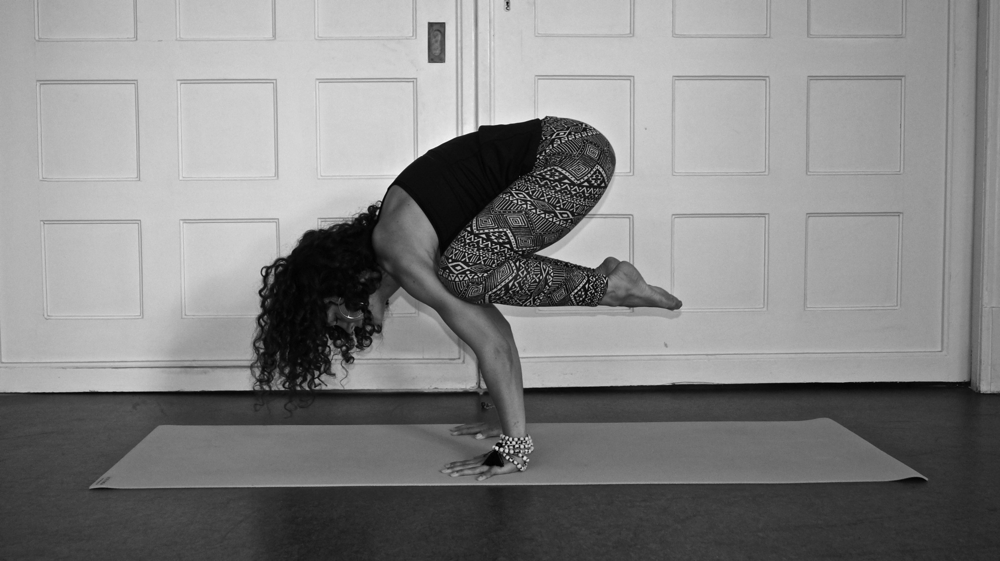 Bakasana // Crow Pose // Krähe
– come to Uttanasana and place your hands shoulder width apart on the floor (bend your knees as much as you have to in order to do so)
– come onto tiptoes and nestle your knees into your armpits (or onto the backside of your upper arm, the trizeps)
– root all 10 fingers firmly down to the ground and gaze towards the floor, about 20cm ahead of your hands
– energetically send your heart forwards and pull your knees and legs towards towards your navel
– try lifting one tiptoe off the floor, then the other – with enough practice and core strength, they will eventually both come up by themselves!
– as a variation for seasoned practitioners: bend your elbows and lower yourself a bit with every exhale and come back up to straight arms with the inhale
– to exit, put your feet back on the ground, straighten your legs and gently put hands under your feet, palms facing up, and massage your wrists with your toes as a little counterpose
/ / / / / / / / / / / / / / / / / / /
– komm in Uttanasana und beug die Knie so weit, dass du beide Hände schulterbreit auf dem Boden platzieren kannst
– komm mit gebeugten Beinen auf die Zehenspitze und bring deine Knie in deine Achselhöhlen (bzw. auf die Rückseite des Oberarms, auch als Trizeps bekannt)
– drück alle 10 Finger fest in den Boden, wie wenn du dich mit den Fingerspitzen festsaugen würdest und schau nach vorne zum Boden, ca. 20cm vor die Hände
– lass dein Herz energetisch nach vorn strahlen und zieh Beine & Knie zum Bauch sowie alles so fest nach innen, wie du kannst
– probier erst den einen Fuß vom Boden zu lösen und Richtung Po anzuziehen, dann den anderen – mit genug Übung und Core-Kraft heben sich irgendwann beide wie von selbst!
– als fortgeschrittene Variation kann man dann noch mit jeder Ausatmung die Ellbogen etwas beugen und den ganzen Körper tiefer bringen, und mit der Einatmung wieder nach oben ausstrecken – Liegestützen in der Krähe!
– um die Pose aufzulösen, einfach die Füße wieder auf den Boden abstellen, die Beine strecken und die Hände mit den Handrücken nach unten unter die Füße bringen, um mit den Zehen sanft die Handgelenke zu massieren (als kleine Counterpose)