Schloss Neuschwanstein overlooking the Forggensee in Summer // Schloss Neuschwanstein vor dem vollen See im Sommer…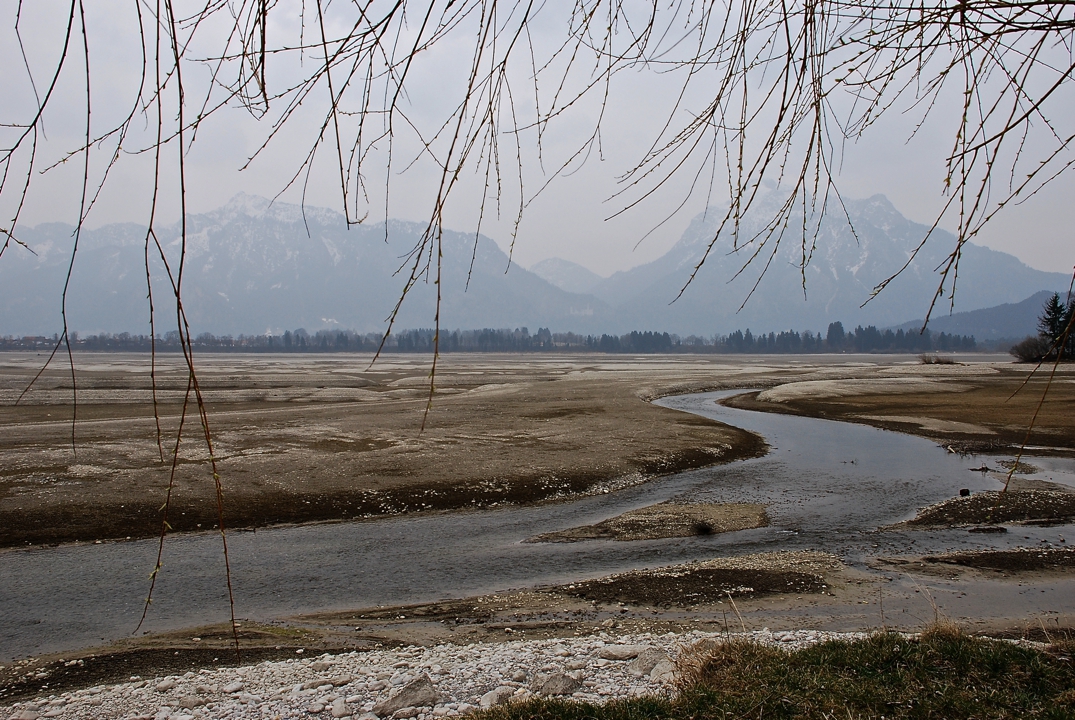 …and the river Lech running through it in Winter // …und mit dem Lech in der Mitte im Winter
Since my boyfriend is a professional fisher, I spend a lot of time on and around the lakes in Bavaria and other Alpine regions. Most of last year in the most southern part, the Allgäu, at the Forggensee lake at the foot of the majestic fairy-tale castle Schloß Neuschwanstein.
And while it's turquoise waters gave me the allures of exotic holidays all summer long, I knew it would look very different in winter. It's a barrier lake for the river Lech and completely drained in winter, more resembling a desert than the south sea.
So when we didn't manage to take the boat out last fall, I was only half way concerned and halfway secretly hoping this would get me to see the lake in it's empty winter looks. Especially after a colleague showed me her new wakeboard magazine The Cable with a cover shot exactly there.
And it was definitely worth the anticipation – I don't hink I've ever seen anything like this. A completely new landscape, different vibe and eerie atmosphere. Walking on the lake ground, stepping on seaweed, watching a river flow through the middle. Clouds of dust sweeping over the plain, that sparklingly reflects the sunshine most of the year. Only my old iPod was now where to be found after being dropped off the boat last summer (sorry Dad!!). Looks like the Water Gods accepted our involuntary offer! And will hopefully reward us with many more amazing days and incredibly nights under star-filled skies.
Bonfire on the sea ground… // Lagerfeuer auf dem Seegrund…
…where the boats are anchored during summer // …wo im Sommer die Boote anliegen
Da mein Freund leidenschaftlicher Angler und mittlerweile sogar Team-Fischer ist, verbringe ich einen Großteil meiner Freizeit auf den Seen des bayrischen Voralpenlandes. Das letzte Jahr vor allem auf dem Forggensee im Allgäu, den ich nicht nur deswegen so gerne mag, weil ich mich mit Blick auf das märchenhafte Schloss Neuschwanstein selbst wie eine Prinzessin fühle, wenn wir über den See schippern. Sondern auch, weil man sich durch das türkisfarben leuchtenden Wasser mehr wie in der exotischen Südsee fühlt, als eineinhalb Stunden von Daheim entfernt. Zumindest, so lange der See Wasser hat – was im Winter bei vielen Stauseen ja nicht mehr der Fall ist.
Entsprechend habe ich mich fast ein bisschen gefreut, dass wir das Boot im Herbst nicht mehr holen konnten, sondern erst im Februar wieder ins Allgäu kamen. Denn nachdem mir eine Bekannte das Cover ihres neuen Wakeboard Magazins The Cable gezeigt hatte, dass im abgestauten Forggensee fotografiert worden war, konnte ich es kaum erwarten, diese Wüstenlandschaft mit eigenen Augen zu sehen.
Und ich habe echt nicht zu viel erwartet. Ohne das Wasser hat sich eine komplett neue Landschaft gebildet, mit einer ganz eigenen, surreal verträumten Atmosphäre. Auf Seegras über den Seegrund spazieren. Ein Fluss durch die Mitte des Sees. Und Staubwolken wo sonst glitzernd das Sonnenlicht reflektiert wird. Nur der iPod, der im Sommer im Hafen über Board ging (sorry Papa!!), war leider nirgendwo zu finden. Die Wassergötter scheinen unser unfreiwilliges Opfer angenommen zu haben und bescheren uns im Gegenzug hoffentlich wieder genauso viel traumhafte Tage und sternenklare Nächte, wie im letzten Jahr.
Endless plains… // Endlose Weite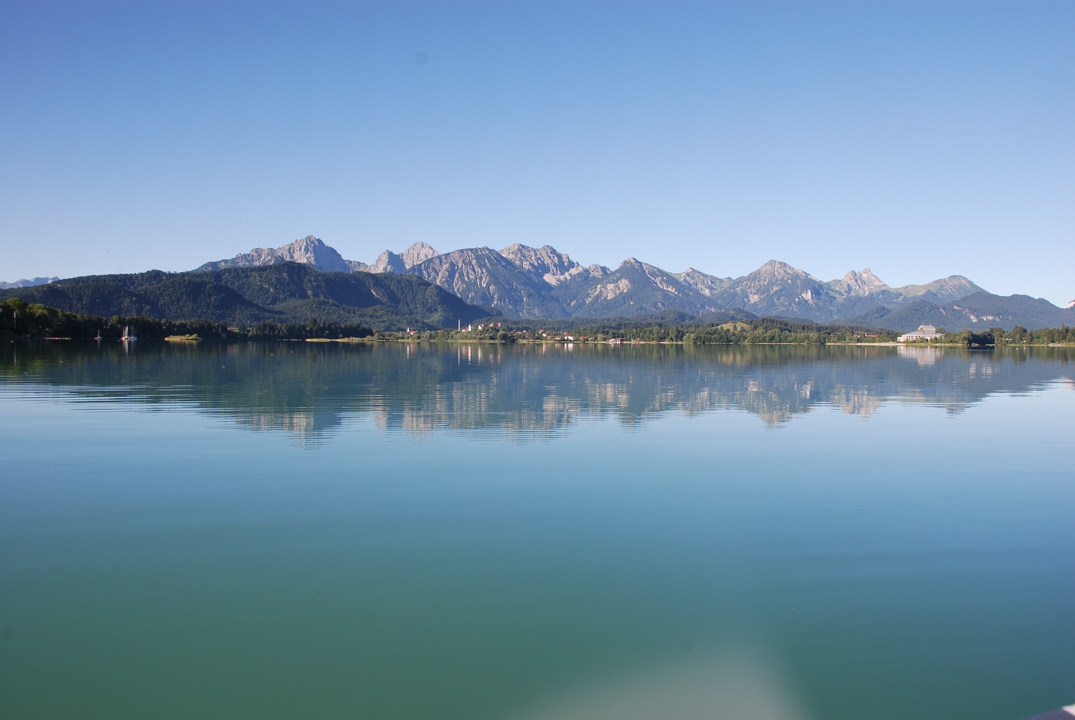 …instead of turquoise blue // …statt türkisblauem Wasser