//auf Deutsch//
Growing up on the foot of the Alps, I've always been a winter girl. Spring time, too. And ever since I started snowboarding, I found myself dreaming of white fields to drop into when I was lying on the beach, toes in the sand…
Coming from a non-sporty family, it was quite a mission to get me on board in the first place, and with all the support but almost no experience from home, I sometimes found it quite a mission to stay on there too. So taking up another board, in another element mind you, seemed like even more of a quest, and like a pretty hopeless one too.
But working for a girls boardsports magazine kept on bringing me back to surf spots over and over and over, oftentimes involving free tuition of some kind as side activity on events and stuff, and so at one point, I just seized the opportunity and threw myself in the water.
And you know what?
I didn't only instantly love it, but also progressed much faster, after I had trained my sense of balance and adapted my body to the sideways sliding style on my snowboard in the previous years.
I would still stay far away from calling myself a surfer but I do love to play in the white water, so when I was invited to join the all girls Roxy Week at Jah Shaka Surf Camp in Portugal, I had little more questions than "When do I leave?!"
Unfortunately most of the times there's a little more to sort out, but with camp spot and media coverage dialed, the last obstacle to my first reencounter with the sea in years  will be the means to get there. Which should preferably be through the air, to make sure I'll get there in time. But with the weather making a move back to winter, as if trying to make up for our Spring Xmas, escapes down south seem to be sought after harder than snow was last winter, making even the most ridiculous of travelling times  horrendously expensive.
But I wouldn't be a proper journalists if I didn't have at least a tiny trick up my sleeve… I'll let you know how that went next week!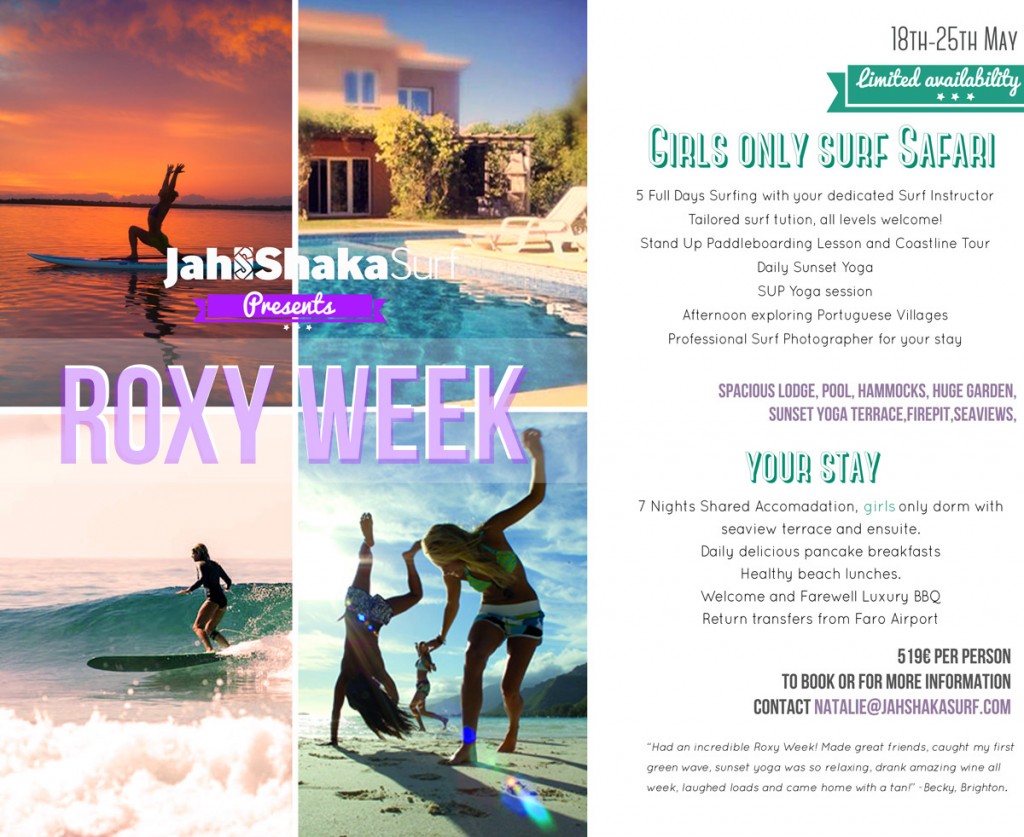 Am Rande der Alpen aufgewachsen, war ich schon immer ein Winterkind. Und Frühling vielleicht. Denn seit ich Snowboard fahre, träume ich sogar im Hochsommer davon, in ein unberührtes, weißes Powderfeld zu droppen, wenn meine Zehen im Sand spielen…
Da ich jedoch nicht unbedingt aus einer richtigen Wintersport-Familie kommen, war es erstmal eine ganz schöne Mission, bis ich mal auf dem Brett stand und damit fahren konnte, und später auch, mehr oder weniger alleine dabei zu bleiben. Da noch ein zweites Board mit rein zu bringen, stand lange außer Frage.
Doch die Arbeit für ein Mädels Boardsport Magazine brachte mich immer wieder an die verschiedensten Surf Spots, wo (im Zuge von Events und ähnlichem) auch immer wieder kostenloser Unterricht angeboten wurde. Also hab ich die Gelegenheit irgendwann dann doch einfach beim Schopf gepackt, und mich ins Wasser geschmissen.
Und wisst ihr was?
Das hat nicht nur unglaublich Spaß gemacht, sondern auch viel besser funktioniert, als ich es mir je hätte erträumen können! Denn durch die Jahre auf Schnee war mein Körper schon viel besser an den "Sideways Sliding Style" gewöhnt und konnte diese Erfahrung sofort im Wasser anwenden bzw. umwandeln.
Surfen kann ich deswegen noch lange nicht, aber ich liebe es im Weißwasser zu spielen und lasse mir keine Chance mehr entgehen, in die Wellen zu kommen und mich weiter zu verbessern. So war es auch keine Frage, dass ich die Einladung zur Mädels Roxy Week im Jah Shaka Surf Camp in Portugal annehmen würde – mein einziges Fragezeichen war "Wann geht's los?!"
Meistens tauchen dann allerdings doch noch ein paar mehr auf, aber nachdem Camp Spot und Media Coverage geregelt waren, steht das letzte nur noch hinter der Anreise, die eigentlich nur durch die Luft erfolgen kann, sonst wird's knapp bis Ende Mai… Da das Wetter jedoch anscheinend gerade gut zu machen versucht, was es im Winter verbockt hat, sind Fluchten in den warmen Süden gerade genauso gefragt, wie es der Schnee an Weihnachten war, was selbst die verrücktesten Reisezeiten und Verbindungen sündhaft teuer macht.
Doch ich wäre kein guter Journalists, wenn ich nicht noch einen letzten Trick auf Lager hätte… Nächste Woche wisst ihr, ob er geklappt hat!