The clouds reach down to my doorstop (okay, almost) and I already got soaked biking to the supermarket this morning (and pushing back up the hill on the way back). On the first weekend of holidays in almost a year (excluding the sneaky surf camp trip I went on in Spring, which was only halfway free time tho as it was actually a work assignment for Cooler Magazine)…
But over the years, through my yoga practice and many, many real life examples, I've learnt that there is a good side to everything if you're only willing to search for it. As whenever there is a shadow, there has to be light somewhere – otherwise it would just be a blur of grey, like the view outside my window right now.
And to me the bright side of a grey, cloudy and rainy Saturday in the height of August is that it gives me a perfect excuse to cuddle up on my couch to watch all the brand new teasers for next winter's snowboard movies and get excited to go out into the cold again! Especially since the fridge is already stocked with loads of nice and healthy and some yummy but unhealthy treats.
So if that sounds like an epic down time to you too, here's a (random) selection of my favourite teasers so far:
The Little Things – Marie-France Roy
An amazing little project by one of the most inspiring female snowboarders out there at the moment: Rome SDS rider Marie France Roy from Canada, who's giving her all and everything for what she loves. 4 years ago she severely injured the C7 vertebrae in her neck filming with Absinthe Films but still continues to rock the backcountry like only very few other girls do. And then last year, she crowd founded the environmentally conscious snowboard movie The Little Things on kickstarter, to be released this fall.
Heavy Mental – Absinthe
In the snowboard world, especially snowboard media (which used to be my full time occupation for the last 7 years), the last offerings from the Euro-US film crew has been viewed very critically. Weird music choices, boring camera perspectives and not very creative editing compared to other snowboard movies have also put me off occasionally and while there hasn't been a movie I had nothing to complain about in quite a while, there was also none that had no wow-factor at all. There was always at least one part, one scene that completely amazed me and made me watch the whole film over and over anyway, fast-forwarding the bits I didn't like. And the teaser for this year's project Heavy Mental got my heart throbbing yet again… Looking forward to the premier in September!!
Nipple Deep – True Color Films
I've loved this crew from their first videos four years ago, because they're so down to earth and locally grounded in the part of the Alps that I grew up and learnt snowboarding in. And because they have one of the most talented, stylish, inspiring and rocking female riders in their midst, who's still the lovely girl next door: Austrian sweetheart Lisa Filzmoser. She really seems to get how the body likes to move and is now sharing her experience and expertise with everyone who doesn't seem to understand quite that well and hurt their body and need a physio treatments afterwards…
And then, finally, the third and final part of Jeremy Jones adventurous journey to go deeper, further and higher than anyone has before. On his own two feet, that is, which is the most incredible feature of all of his latest films: no helis drop him and his fellow adventurers off on the peaks – they make their own way up there, through snow, icy and the steepest climbs I've ever seen on film. Way beyond snowboarding… And while I absolutely love watching him, no matter how crazy it gets, and am a huge fan of backcountry riding myself, his (and all other) movies were always missing out on something in my opinion, something on which this third chapter finally shedding some light: the family staying behind, the wife fearing for the father of her children and still trusting him from the bottom of her heart, that he needs to do what he does and is doing his best to come back.


/ / / / / / / / / / / / / / / / / / / / / / / / / / / / / / / / / / / / / / / / / / / / / / / / / / / / / / / / / / / / / / / / /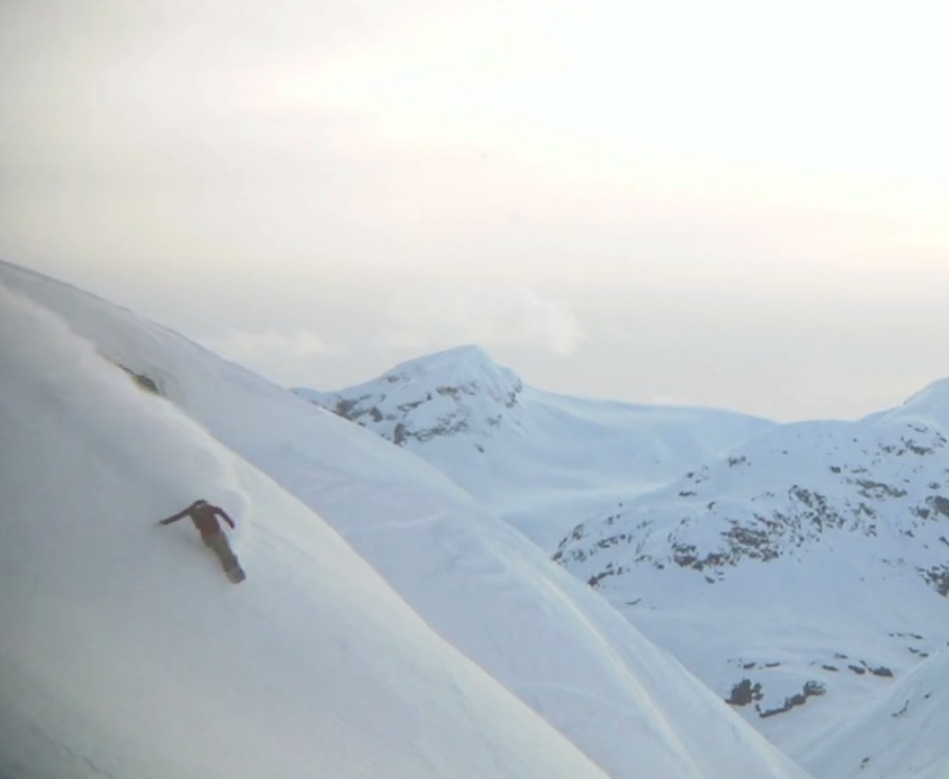 Wolken bis vor's Fenster und eisiger Nieselregen beim Einkaufen in der Früh – ein typischer Samstag im August, an dem man sich ganz besonders über das erste Urlaubswochenende seit einem guten Jahr freut (wenn man das Surf Camp im Frühling nicht mit zählt, das ja durch den Artikel für's Cooler Magazin quasi Arbeit war)…
Doch meine Erfahrung im Yoga und vielen, vielen Situationen aus dem echten Leben haben mir gezeigt, dass alles auch eine positive Seite haben kann – wenn man sie denn finden will… Denn wenn es Schatten gibt, muss irgendwo auch die Sonne sein – sonst wäre alles nur ein grauer Nebel, wie ich ihn gerade vor dem Fenster habe.
Mit vollem Kühlschrank und keiner dringenden Aufgabe kann ich mich also ganz getrost und entspannt auf der Couch einkuscheln und mich von den neuen Snowboard Movie Teasern schonmal darauf vorbereiten lassen, mich bald wieder über nasses und kaltes Wetter zu freuen!
Hier eine kleine Auswahl meiner Inspiration:
The Little Things – Marie-France Roy
Ein ziemlich geniales Filmprojekt von einer der inspirierendsten Snowboarderinnen unserer Zeit: Rome SDS Team Rider Marie France Roy aus Kanada, die mit Leib und Seele hinter dem steht, was sie tut und sich vor vier Jahren beim Filmen für Absinthe Films den C7 Halswirbel gebrochen hat, aber weiter zu den allerbesten Frauen im Backcountry gehört. Letztes Jahr hat sie mit Hilfe von Spendengeldern den umweltbedachten Snowboardfilm The Little Things ins Leben gerufen, der im Herbst erscheint.
Heavy Mental – Absinthe
In der Snowboardwelt und ganz besonders seinen Medien (wo ich die letzten sieben Jahre beruflich eingespannt war) haben die letzten Werke dieser Europäisch-US-amerikanischen Filmcrew viel Kritik eingesteckt. Komische Soundtracks, langweilige Kameraperspektiven und unkreativer Schnitt im Vergleich zu anderen Produktionen haben auch mich oft gestört und obwohl mich in den letzten Jahren keiner ihrer Filme restlos überzeugt hat, gab es auch keinen, der nicht mindestens eine absolut geniale Szene dabei hatte, die ich immer wieder angeschaut habe (und über die anderen einfach vorgespult habe). Und nach diesem Teaser bin ich auch dieses Jahr wieder richtig gespannt auf die Premiere!!
Nipple Deep – True Color Films
Diese Crew hat mir vom ersten Clip an gefallen, denn sie kommt nicht nur aus dem Teil der Alpen, in dem ich selbst aufgewachsen bin und wo ich snowboarden gelernt habe, sondern hat auch eines der besten Snowboarderinnen dabei, die wir meiner Meinung nach in Europa haben: die durch und durch sympathische und gleichzeitig absolut bewundernswerte Lisa Filzmoser, von der ich mir nicht nur snowboardtechnisch gern ein großes Stück abschneiden würde!
Und zu guter Letzt steht natürlich auch noch das letzte Kapitel in Jeremy Jones Snowboard-Abenteuer an, das in mit den beiden ersten Filmen Deeper und Further bereits weiter und tiefer in die Berge geführt hat, als jeden anderen. Und obwohl ich die Bilder dieser endlosen Weiten und unberührten Schneedecken wirklich liebe und nicht genug davon bekommen kann, hat mir lange eine wichtige Seite dieser Abenteuer gefehlt: die Sicht der Familien und geliebten Menschen, die man dafür zurück lässt. Die mit ganzem Herzen darauf Vertrauen, dass ihre Lieben wissen was sie tun und alles dafür geben, wieder heil zu ihnen zurück zu kommen – und sie aber gleichzeitig auch genug lieben ihnen die Freiheit zu lassen, sich voll und ganz auszuleben.