I normally don't need a reason to go out there & get up a mountain, but today I was happy I had one as without, I might have missed the first halfway proper pow day of the season!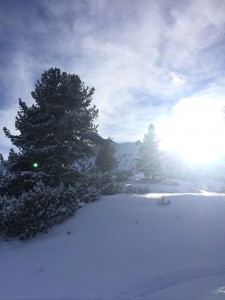 As a freelancer, I normally try to stay clear of weekends and prefer to go riding during the week, when everyone else is chained slaving away at work. So yesterday, we were happily lazily hanging out at home when the goodness that Social Media can sometimes be alerted me to the fact that it was WORLD SNOWBOARD DAY. As a passionate snowboarder you obviously can't miss that, especially when the next resort is a mere 20 mins away, and so we quickly grabbed our staff and where on the peak by 2pm. Just curious, whether our favourite freeride spot would already work, we dropped in and found ourselves in Winter Wonder Land, that we had to ourselves to play for another good 2 hours.
The morale of the story?
GO OUT THERE & GO SNOWBOARDING!
You never know when it's gonna be at its best so you might as well try #everydamnday.