Riding with 40 maniacs in tow… Epic fun! Pic by Matt Georges
While I was at the Shops 1st Try retailer test event in the Alpbachtal in Tyrol, happily testing the new gear and networking for Boardsport SOURCE, my phone kept on ringing from an 'anonymous' caller, which is not exactly my favourite, especially when I'm in the snow. So when I finally answered sitting on the chair lift and the caller asked me for an Audi shuttle to ispo, I almost hung up again straight away. But since the snow was just so great that day, I couldn't even pretend to be really annoyed – lucky for me, as it quickly turned out that my editor had simply mixed up the numbers on his list of calls and had intended to call me next to send me of on "something super secret but super cool with Vans" the following week…
And boy am I happy I took that call and refrained myself from barking something into the phone straight away!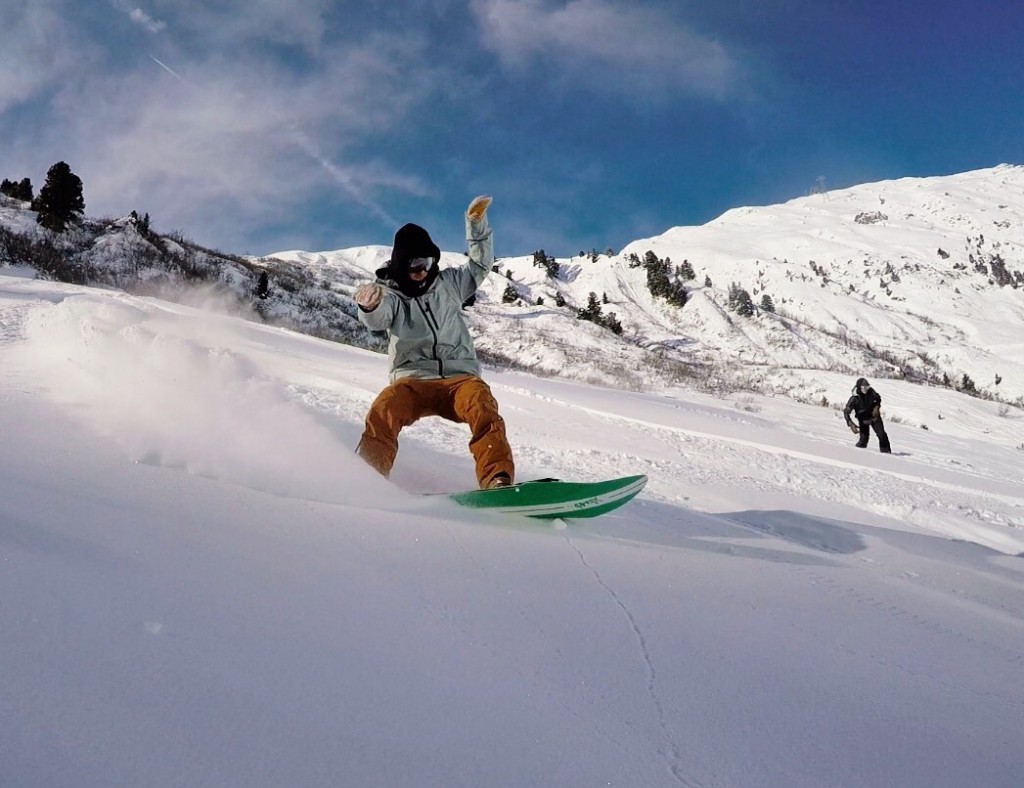 Kalle Ohlson rocked that Äsmo snow surf… Just like Product Developer Garrett, who is a boot-fixing-wizard too!
Not only did the Vans Snow Day in Mayrhofen, Austria turn out to be one hell of an event, but also the trip of a lifetime! I know, I've used this term a couple of times already for various events and trips I've been to and on recently, but I just can't help feeling blessed beyond measure about all the amazing stuff I get the chance to experience.
And riding with the likes of Markus Keller, Zac Marben, Kalle Ohlsen and Hana Beaman definitely belongs in that category. Just as much as having Zillertal local Wolle Nyvelt showing us one of his array of backcountry runs. Or Jamie Lynn busting out the most massive 360s of all times about 20 cms next to me, spraying snow directly in my eyes. And last but not least: trying the infamous Äsmo snow surf no-boards with the masters themselves – Ästhetikers for life!
Big huge thanks to Vans, to SOURCE, to everyone at the event, especially Coco for finding my camera in the snow and also my group of yogis in Munich who agreed to move their class in order to let me enjoy the mountains with some of my idols.
STOKED doesn't begin to cover it! This clip might try…

And last but not least, a couple of shots of me on the snow surf… I obviously don't posses the greatest talent here, but I sure had FUN!! Pics by Andreas Monsberger