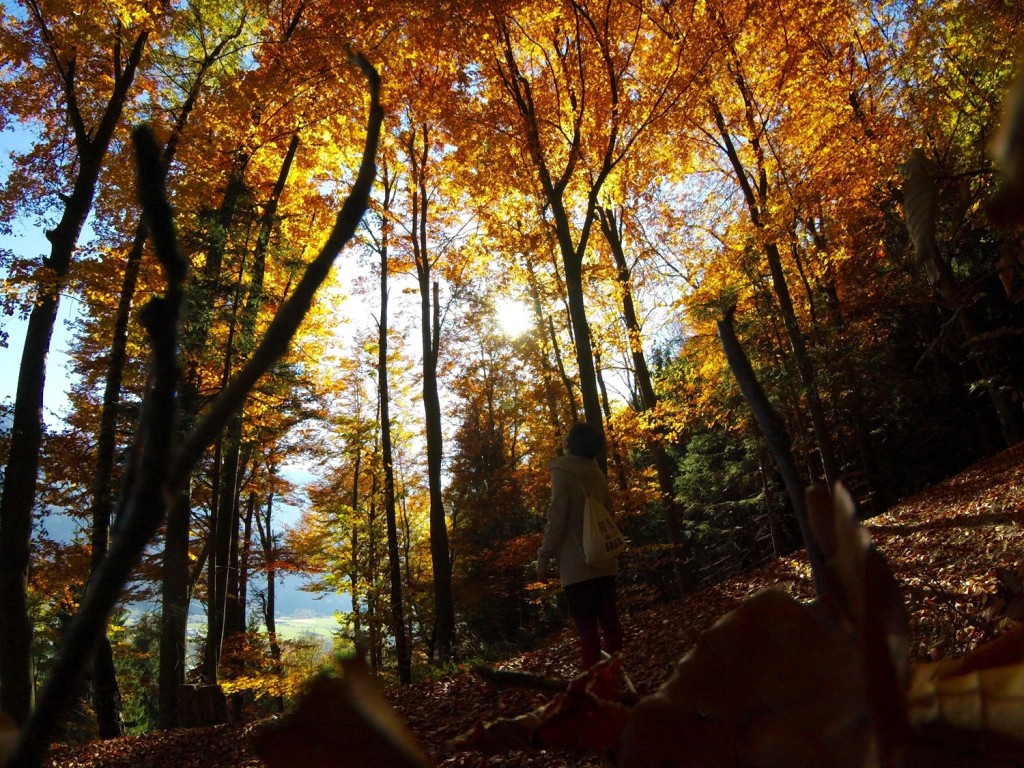 Sometimes, trusting your gut feeling is easier said than done. I get that a lot, especially when it tells me to NOT do something, back down and be safe. Sometimes, it takes quite some strength and courage to believe and trust that instinct from deep down, because on the outside everything still looks calm and nice. Yet if there is a feeling, there is a reason behind it, I figure.
After weeks of deadlines chasing one another, I used the first blue bird to take a day off, go outside and do something for myself. Like hiking up to the cross on the mountain opposite my balcony, that I sometimes see glowing at night. Apparently something photovoltaik, as a hiking guide website writes, that rates this tour pretty difficult – in winter time…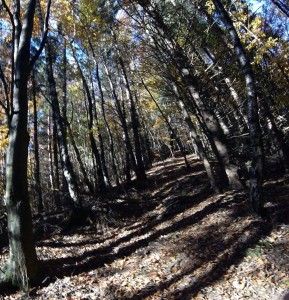 The trail through the woods got pretty steep early on, and while I didn't mind the exercise or breaking into a sweat, I felt very uneasy about the whole path being covered in a thick carpet of dried leaves. Watching the path climb up through the woods in a pretty straight manner, I couldn't help but seeing a gigantic slide – that I wasn't keen to ride at all… When the trail reached an opening through the woods that gave way to an amazing view over the valley, I was thrilled to take some pictures – and then call it a day. Because from the clearing, the path went on to cross a little ridge, and then climb up on it, and simply looking at it, I knew I didn't want to continue. Not even a single step further. Of course I would have loved to see the cross, look back down on my house, and take stunning pictures of the peak-view. I even felt like cheating a bit, or being plain weak, like I should get over myself and my stupid fear and grow some balls.
But my gut has seldom been more clear on "just not feeling it" and debating with my own head, I managed to convince myself that hiking is supposed to be fun and if I'm not having any, that's a very valid reason to turn around and head back down. On the way there, I slipped almost a dozen times, not terribly but enough to be relieved and assured that my gut feeling was right.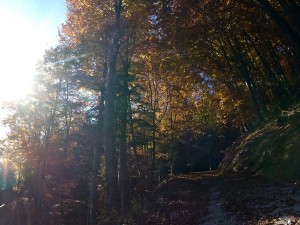 I turned into another path on the next crossing, and felt a tiny bit like in Disney's Beauty and the Beast, when one of the roads at the crossing is dark, narrow, downright uninviting and obviously dangerous, while the other one is a picturesque wide open road, glimmering in the sunshine. This time I opted for the latter, a forest road covered by trees ablaze in red, orange and yellow, and kept on walking for a good 3 hours. I took loads of pictures and in the end had exactly the day I was looking for – without the "achievement" of reaching a peak, but richer with a deep new experience with myself.
And one day, I'm going to see that cross – probably in the heat of summer, and definitely with a friend in tow, preferably an experienced hiker…