If you love what you do, you will thrive.
Maybe not always, but most of the times. At least I truly believe in that and recently realized that I have unconsciously been living along these lines for almost 20 years now.
When part of my then recently-divorced parents took me snowboarding for the first time at the age of 12, my body was covered in bruises but I couldn't be convinced to swap the board for skis that were actually much easier to ride. I went on to find myself a job in the boardsports industry, fusing my passion and my professional life as a special interest journalist and writer – despite rubbish payment, lack of work benefits and contrary to all good advice.
As I discovered and fell in love with yoga, my path let me along a similar route and after over 8 years of practice I enrolled in a teacher training to be able to live and share my new passion with others as well.
So naturally, the culmination would be to combine the two, which I have started this year. First at the Nine Queens event this Spring, teaching an Après Ski Yoga class to help the worlds best female snowboarders and freeskiers to relax and unwind after the most prestigious contest there is for them these days.
And just in time for the first Yoga & Snowboard camp I'll be teaching at, as well as my first yoga course dedicated to wintersports in Munich, the flow, the universe or whatever energy is at play out there, sent an incredible gift my way when the German yoga magazine Yoga Aktuell asked me to grace the cover of their current Oct/Nov issue, for which I will be eternally grateful and tell my grand-kids about how I was so excited the night before, that I couldn't sleep…
There are some things in life that you can't just achieve or work for or reach on your own. Some things have to align on their own in order to happen. And such an elusive honor as gracing the cover of a magazine certainly is one of them. But following your heart, having faith in your love and a little help from talented friends with amazing photography skills surely do help…
Huge thanks again to Conny Marshaus and Eleonora Raggi for their time & work on their amazing shoots with me, and to Alexandra Haardt for the flattering, humbling text about me!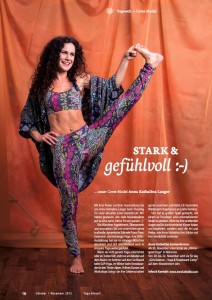 If you love what you do, you will thrive.
Dieser Satz ist schwer zu übersetzen, meint aber ungefähr, dass aufblühen & florieren wird, was von Herzen kommt. Und auch wenn das vielleicht nicht immer und für jeden stimmt, glaube ich selbst ganz fest daran und lebe unbewusst schon seit fast 20 Jahren nach diesem Motto, wie mir kürzlich aufgegangen ist…
Denn obwohl ich nach meinem ersten Wochenende im Schnee von Kopf bis Fuß mit blauen Flecken übersäht war (zumindest gefühlt & erinnert), wollte ich partout nicht absteigen und mein geliebtes Snowboard gar gegen die (damals für mich viel einfach zu handhabende) Skier eintauschen. Meinen ersten Job hab ich mir ebenfalls gleich in der Boardsport Branche gesucht – miserabler Bezahlung, mangelnder Sicherheiten und allen gut-gemeinten elterlichen Ratschlägen zum Trotz.
Als ich Yoga kennen und lieben lernte, schlug ich einen ganz ähnlichen Weg und schuf mir durch die Ausbildung zur Yogalehrerin die Möglichkeit, nicht nur selbst tiefer in die Materie einzutauchen, sondern auch meine Leidenschaft mit anderen zu teilen.
Und so war es eine ganz natürliche Entwicklung, beides zusammen zu bringen und zu verbinden – wozu ich dieses Jahr beim Nine Queens Event die Chance bekam, als ich gebeten wurde, die besten Snowboarderinnen und Freeskierinnen der Welt beim für sie derzeit prestigeträchtigsten Contest mit meinem Après Ski Yoga nach getaner Arbeit wieder zu entspannen und "runter zu bringen".
Und pünktlich zum ersten Yoga & Snowboard Camp, bei dem ich unterrichten werde, sowie dem ersten ganz auf die Vorbereitung zum Wintersport ausgerichteten Yoga Kurs in München hat mir der Flow, das Universum oder was auch immer da draußen für Energien am Werk sind, ein unglaubliches Geschenk gemacht, als mich die älteste Yoga-Zeitschrift Deutschlands, die Yoga Aktuell zu einem Shooting für ihre aktuelle Okt/Nov Ausgabe einlud.
Gewisse Dinge kann man einfach nicht aus eigener Kraft schaffen oder "sich erarbeiten", gewisse Dinge müssen von sich aus passieren und sich von alleine ergeben. Der inneren Stimme zu vertrauen und seinem Herzen zu folgen – und talentierte Fotografen im Freundeskreis zu haben – ist aber sicherlich hilfreich…
An dieser Stelle nochmal ein riesengroßes Dankeschön an Conny Marshaus & Eleonora Raggi für ihre wunderbaren Shootings mit mir, und an Alexandra Haardt für den unglaublich schönen Text über mich, bei dem ich wahrscheinlich in 30 Jahren noch rot werde, wenn ich ihn lese…
DANKE