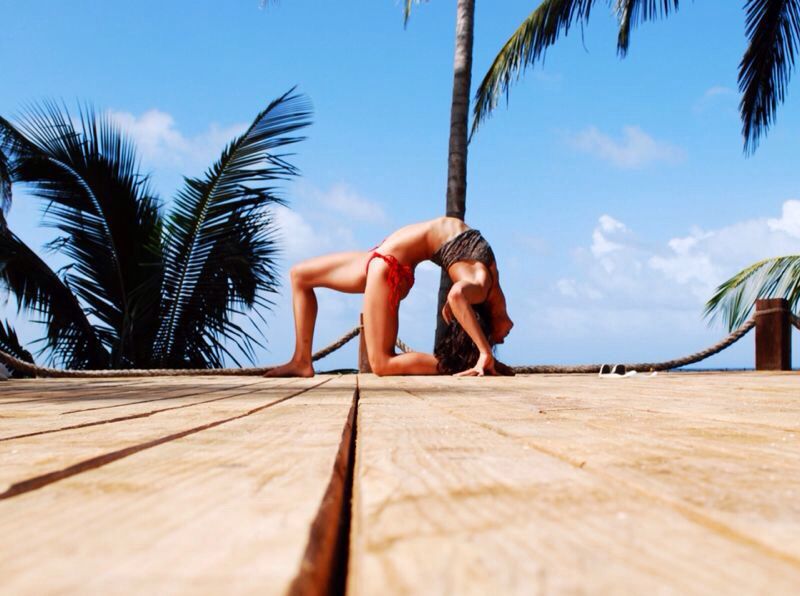 A friend introduced me to Meghan Curries yoga videos on YouTube, that immediately spoke to me. The way she moves her incredible body, you can clearly see (and almost feel) how much she's enjoying every second of her flow. So I booked a spot at her next workshop in Germany to meet her in the flesh and find out more about the phenomenon that she is for the German yoga magazine Yoga Aktuell. The interview was published in the June/July 2014 of their print mag (click the image to read a PDF of the article) and below is the english original.
What do you do, when you miss your 3am flight? Meghan Currie spends her waiting on a couple of handstands and spontaneous encounters. Despite her love for getting upside-down, the Canadian yoga teacher never loses her sense of groundedness and always stays herself, enriching the yoga scene with her incredibly refreshing, authentic and creative flow, that is spread over the whole wide world through her inspiring videos and workshop series. 
How did your incredible airport practice video come about?
I was at the Burning Man Festival and missed my return flight through some crazy traffic so I had to wait for 12 hours for the next one. It was 2 am and I was hanging out at the airport so I set up my iPhone to make a stupid little video of me doing yoga. I was in a handstand somewhere in the airport and this guy walks by, stops and introduces himself as a filmmaker from Milan. I giggled and said: "Let's make a film!" so he set up his camera, I did my thing and he edited it right there. Then he was like "I gotta go, bye," and we didn't even exchange contact information or anything. It was so perfect, missing that flight so we could end up making that video!
Quite similar to the 'Girl in the Red Dress Shooting' with Robert Sturman, right?
That was super-spontaneous as well. The whole story is pretty crazy; I had this urge one morning to fly from Vancouver to New York to film the Occupy [Wall Street] movement to test out my new camera. Walking around in NY I bought this amazing red dress in a thrift shop. I put it on the next day and on the way to Occupy I went into this raw food restaurant to get some coconut water. In there, I noticed a guy who looked familiar and how he was watching me. It turned out to be Robert, whom I knew from Facebook and who was just working on a series of women in beautiful dresses in elegant yoga poses, so he asked me what I was up to. I guess he was thinking about a couple of Warrior 2s in a nice garden, but once I started practicing we had the best day, walked around for 3 hours and took photos all over the place. I never saw him again either but when I saw a picture he posted on Facebook afterwards, I was amazed by the art that had just come out of that spontaneous moment.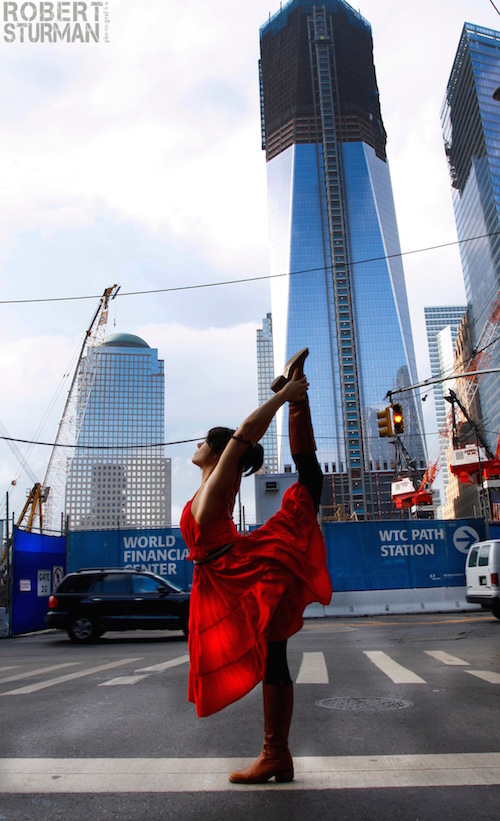 How did you get into yoga in the first place?
I've wanted a teacher since I was very little and thought I would end up in the jungle with some kind of shaman. I needed some help with my psyche; there were a lot of things going on inside of me that could not be understood by the surroundings I grew up in. Then I met these two amazing women when I was in Costa Rica: Nancy Goodfellow and her mother, who lead a fucking epic retreat center. I had been living in a hammock so they let me come live in their place, doing random maintenance work and one day I went to their yoga class. But I was always very physical; when I was little my mum put me into all kinds of sports.
Are you naturally bendy?
Yes, I think I'm naturally bendy. What I had to work more on was strength and alignment in order to be able to be freer so that when I move freely I'm integrated, and not just flailing my limbs around. But it always depends, some people are so strong, that what they need is the softness.
How long have you been teaching now?
I actually didn't want to teach, ever. I was practicing from the age of 20, off and on, because my lifestyle was very off and on. And I didn't like the whole yoga scene, when things get too trendy I can get a bit turned off. There can be pretentiousness within the yoga community, in the way words are thrown around, in the way things are taught, even the Sanskrit or the description of what yoga is – I was really turned off by this. I just wanted to do yoga! But my friend, who is a teacher and owns a studio kept on encouraging me to do a teacher training and when the right teacher came along, I decided to go for it. At first, [it was] just to get my own life more in line, never to teach. But yoga had done such important and necessary magic for me, I was suffering from a lot of things for a long time, so I decided to teach one class a week, just one. The thought of teaching made me shit my pants and I hated it, dreaded it, but it was so good for me. So after 6 months I took on a second class, as a sub, and through this constant confrontation with myself and my resistance, I started to overcome a lot of my own shit and clear up all the negativities that were making me resist the positivity of yoga. A long process and a long fucking answer!
It can be hard for certain parts of this logical society to acknowledge there's something magical moving through us that's way bigger than us.
Your teaching today is incredibly refreshing and creative. Are there any rules you follow?
Yeah, there are a few things. One has to make sure that certain parts of the body are warm and integrated or open, before you open other parts of your body. So there is definitely a formula and rules in that regard, which you do cover in teacher trainings. The other part of sequencing comes from my own practice, listening to the moment and the teachings that are coming through my body while I practice. It's been a process not to think about "I should go here now, and then should do this" but just try and allow my body and something else to move through. It can be hard for certain parts of this logical society to acknowledge there's something magical moving through us that's way bigger than us. But when we connect to that, it's like information that takes us beyond what we are capable of on our own, and poses seem to be tying themselves together. So there's two parts to that answer: yes, there are rules that you have to know logically, before you can forget them and let something bigger move through.
Do you teach differently according to what students you have?
For sure. I have a great respect for studentship. I think the important part is the quality of our recognition, whatever it is that we're recognizing, whether I'm recognizing you or this coffee, the quality of my recognition is what comes back. Once we all move beyond seeing only each other's external wiring, then we can recognize the sweetness because we feel our own sweetness, and then that's what becomes the exchange. And it doesn't matter what other people say; you take in whatever the other person said and ask yourself "Is it true? Is part of it true?" It's basically just a guide to inquire deeper into what's true for you.