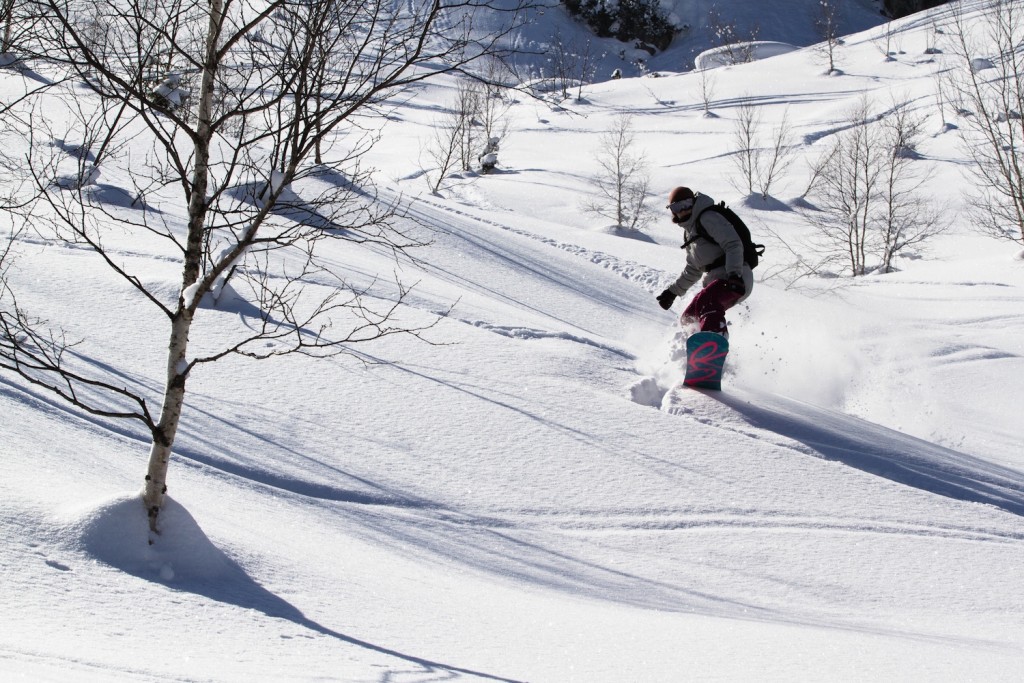 Photo: Hans-Martin Kudlinski
A yoga course designed to prepare you for your winter season with lots of standing poses, deeps twists and core work to charge up those powder legs!
Innsbruck
February 2nd – 23rd, 2017
Thursdays, 19:30h
Weyrer 200, Ferdinand-Weyrer-Strasse 6, Innsbruck 
I've been snowboarding for 20 years now. I still don't really know why or how this passion for battling frozen hills in ice-cold conditions instilled itself in my heart so deeply that I not only kept it alive for so long, but did so without having much support from friends or a proper community of peers.
My parents were never very sporty, nor did they bring me up that way. But when my dad fell in love with an avid skier after my parents split, the kids got to try as well. And despite being covered in bruises more or less all over after the first couple of days, I stuck with "the art of sliding sideways" – or rather it stuck with me… So much, that my first proper job out of university was that at a snowboard magazine.
Even though I think I never had a real talent for boardsports, I didn't really feel a negative physical effects until I started to hit jumps and cliffs in the backcountry. Luckily, by that time I had already established a solid yoga practice and was about to enroll in a yoga teacher training. Which in combination with the years of my personal experience gave me all the tools I needed to counterbalance my days on the mountains with time on my mat.
Stretching out after snowboarding has become an almost natural habit for me by now. Especially since I worked out which sequences are the best for my body and help me make my IS joint un-stuck after hours of external rotation in the hips that my snowboard stance requires. For me, this is the most-perfect "Après-Ski" activity I can think of and you can practice it with me in my online class!
Photo: Eleonora Raggi
Yet yoga is also an incredible tool to train and prepare body and mind for a season on snow and in the mountains – whether your weapon of choice is a snowboard or two sticks called skis. Next to obvious physical effects like leg and core strength, you also have an array of opportunities to work on your balancing skills and ability to focus. Both of which will not only enhance your adventures outdoors because you get to charge harder and that for longer. Your mountain time will also be a lot safer because you are less accident-prone and through that have a lower risk for injuries.
Join my 6-weeks yoga course dedicated to prepare you for your Winter in Munich and / or come on a yoga snowboard weekend with me this season!
Photo: Conny Marshaus